The story
This is the 5th sample library in my Synthphony S series, and it comes packed with lots of new features. All samples are once again generated by computer using the Python code written by myself.
With the Kontakt version, you now have the ability to choose from a range of built-in effects using the sliders & selectors located under each sample source. More randomization buttons and options have been added to give you greater flexibility in exploring the new sounds.
The essential LFO modulation for volume, filter (with new cutoff, resonance, attack, and decay controls) and pitch add movements and motions to your discovered sounds. By randomizing these modulation knobs, you can create a wide range of unique and unexpected sounds. The possibilities and combinations are countless. With the new "Master" bus controls, you can add even more depth and complexity to your sound design. Experimenting with these additional knobs to discover unexpected sounds textures.
The Kontakt version of this library is CPU-intensive, mainly because of the processing required for the Delay and Reverb effects in Kontakt. However, there is a simple workaround by turning down the Delay and Reverb sliders to zero, you can bypass these effects processing entirely to reduce the CPU usage.
The followings are some of the features:
1. All presets are merged into one instrument file (1 file each for Kontakt & Decent Sampler).
2. Modulation for Volume, Filter & Pitch – 10 x 4 knobs for Cutoff, Resonance, Amount, Speed, Attack & Decay (Kontakt only).
3. More randomize buttons – to randomize parameters, modulations & sample sources independently (Kontakt only).
4. Turning the sliders all the way down to zero will "By-Pass" the Effects processing. This will reduce the amount of CPU usage.
5. XY Morphing Pads for sample sources A B C & D (Kontakt only).
6. Selectable Kontakt built-in filters/effects slots for each sample source (NEW, Kontakt only).
7. More randomization buttons & options (NEW, Kontakt only).
8. Master bus for movements/motions sounds design (NEW, Kontakt only).
Synthphony S5 Complex is available for Kontakt 6 (Full Version) & Decent Sampler. Kontakt & Decent Sampler are two different Samples Players. You will notice that the output sounds from both players are different as both of their Effects engine is not the same. It will be a good idea to have both libraries installed to complement each other and make them a good combination for sounds and music productions.
Thank you for all of your comments, feedback & downloads. Your support will encourage me to continue to improve this Synthphony sample library series.
Contributors
Aba Synthphony
Interface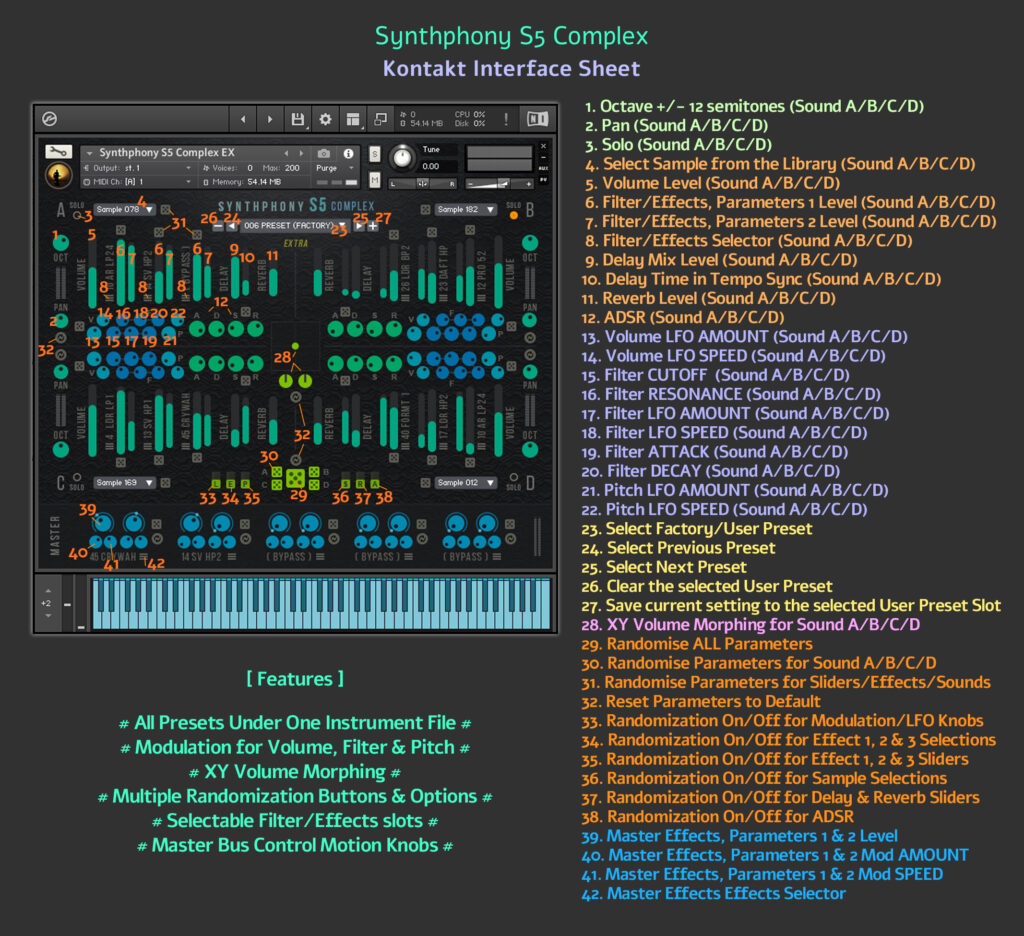 Reviews for Synthphony S5 Complex
Leave a review to let others know what you thought of the instrument!