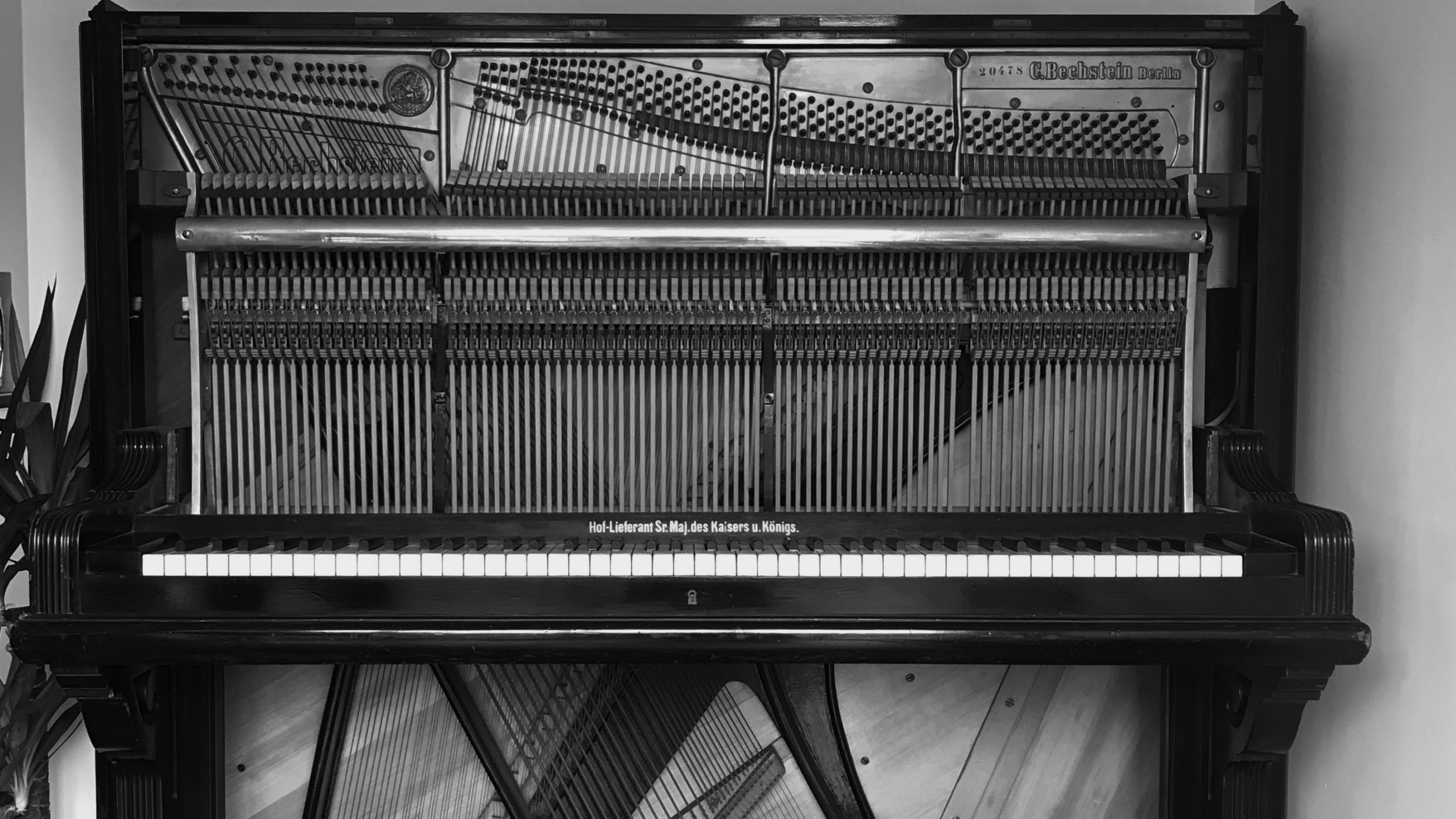 The story
"The Emperor and King
C. Bechstein Upright – Hof-Lieferant Sr.Maj.des Kaisers u.Königs (supplier of the Emperor and King).
Our Bechstein dates back to the late 1800s, is in wonderful condition and has an incredibly warm tone. Having had the piano for around six months I decided to sample it for the PianoBook as it has given me a new creative pallet.
The mics have helped to capture a depth to the piano and consist of a pair of Sontronics Orpheus in a spaced close mic position as well as a Sontronics Apollo 2 stereo ribbon mic using the Gary 'Barlow' technique, positioned just above my head; thanks Christian and Gary! The signals go through a UA Apollo 8p interface without any processing applied.
The felt is attached to an old curtain rail using double sided tape. A small corner of felt is also tagged to each end of the rail to reduce any vibrations from the piano.
I would love to know if some of you can make use of it as I'm considering re-sampling with more velocity layers, with and without felt."
Reviews
Leave a review to let others know what you thought of the instrument!
A trully nice felt piano

It really is. Despite the fact that the high register is not panned properly to the right, the sampling is incredible so there is no audible noise - unless you go absolutely extreme frenzy mode with the sustain, but that's not what the keyboard wants to offer you. It has the kind type of character, a romantic if you'd like. It also offers you two different mic mixes, and a release trigger volume option, but I suggest leaving that off since it will introduce a lot of white noise.

Perfect piano for layering.

I remember to have watched a video or read an interview in which the composer was explaining that his piano sound was the combination of two pianos, one very warm and the other brighter. If you're looking to use this approach, this piano works very well for that purpose. Another way this piano can be useful is to create organic low-end support to a high-end pad or string machines like a Solina or a Mellotron. Otherwise, the sound of the piano is too dull for my taste, and honestly, I prefer to use felted piano to have that kind of sounds.