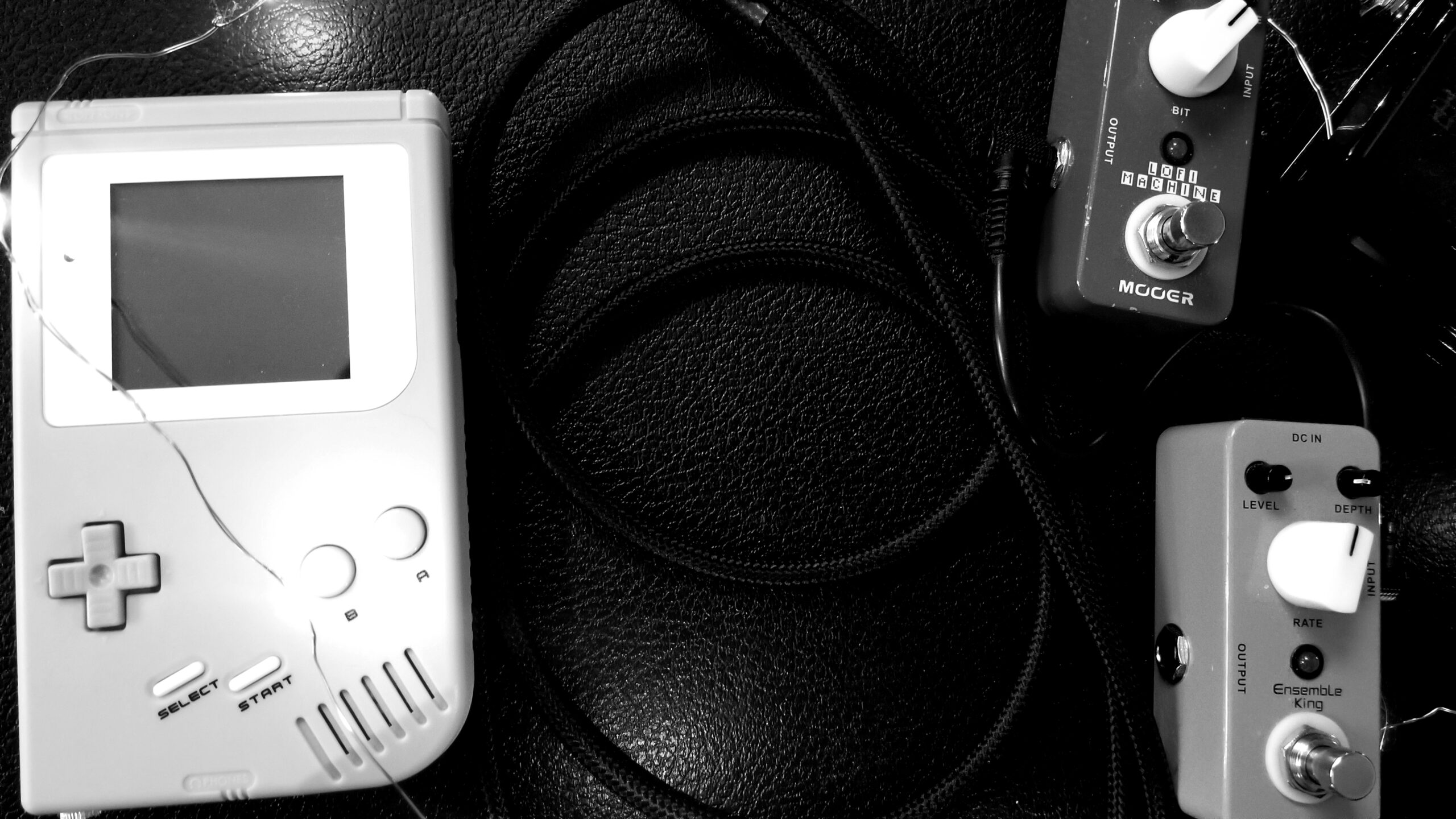 The story
When I was 5 years old my father gave me my first video game. Tetris for the Nintendo Gameboy. This was the beginning of my interest in gaming, which would eventually lead into my interest in becoming a game audio designer and composer. 15 years later I learned about the existence of Chiptune, a subculture of musicians that made new music using old game hardware. Another 10 years later and I'm now an established artist in the Chiptune community and made some of my closest friends through the medium.
One of the most common Chiptune tools out there is LittleSoundDJ, aka LSDJ. It's a tracker software that is used on the Gameboy to access the console's audio and make music with it. Armed with a modded Gameboy and LSDJ I sampled long tones in two of the Gameboy's audio channels and processed the stereo signal through two different guitar pedal chains. The result is a lush, synth pad that's crunchy in the bass, eerie and dissonant in the upper register, and harmonious in the mid-level register.
There is a lot of potential in the sound capabilities of the Gameboy, search up music made with LSDJ and you'll discover that yourself. It's likely that I will create more sample libraries using the Gameboy, and I'll be sure to submit them to pianobook.
Reviews for Processed Gameboy Pad
Sound

Character

Playability

Inspiration

GUI
Leave a review to let others know what you thought of the instrument!
Fun Chiptunes synth!

If you need a fun chiptunes type synth, this library has that character nailed! Authentic sounding pulse waves coupled with a handy ADSR and a stylish and thematically appropriately GUI make this a ton of fun to play. Nice work!

A unique distorted retro synth

If you ever get nostalgic about how good the music felt on your old GameBoy classic, you gotta try this! This little patch offers a sound that you will definitely have fun with, especially if you are into this kind of music. It is also slightly different so makes it more unique than other similar patches, and in general the instrument quality is amazing! You gotta love the GUI too!

Personally not into this but its objectively great

Although ive said before in reviews that im not personally into these digital, really angular, bright synth type sounds, from an objective standpoint this is really cool and anybody who is into these kinds of sounds will love this. Its very 8bit sounding and reminds me of the old pokemon games on gameboy. The GUI is also really creative and cool looking. Its a very unique instrument for pianobook. I dont think we have anything else quite like this on the site.Although im not into this others will definitely love it