The story
It was sometime in January while processing the massive amount of samples for 'The Synths' release when I came up with a technique for making evolving type pads/atmos which lead me to making this sample library. created with mentioned samples above using many pedals and modulators them from there into a granulize which is where the true magic happens Evos sounds and there on are more of a secret sauce type deal that took an immense amount of time to make with plans already set in motion for Evolutions: Two but on a much much larger scale than this introductory plugin though still useful and certainly worth playing with until then! In this pack you'll find 13 different patches. None of which are tempo locked but they are random in nature. Not too random, just enough movement to give them a feeling of liveliness. Some can be played whilst others are intended for singular notes so bear that in mind while reviewing!
Interface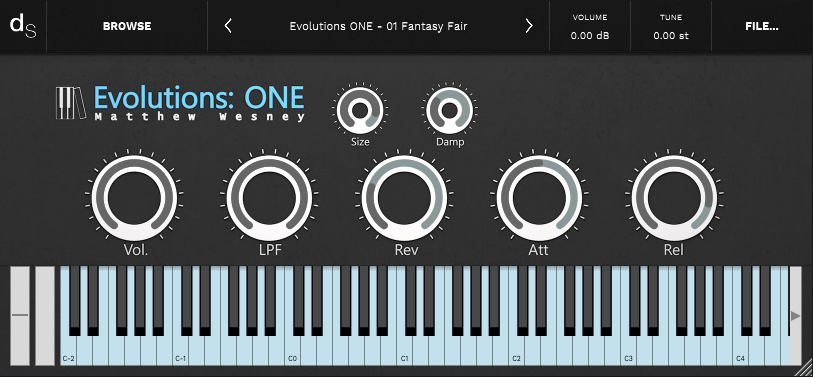 Reviews for Evolutions: ONE
Sound

Character

Playability

Inspiration

GUI
Leave a review to let others know what you thought of the instrument!
Variation and greatness!

In this massive 3GB download package you will find 13 different patches, each one with a very different evolving sound signature that will definitely move you. All that comes with Matthew's very smart GUI design, with enough options so you can get it just right for yourself. In my opinion, this is like one of the instruments that you can load up and instantly come up with a melody. Great stuff!

The LPF seems not to work properly since it starts doing something between 0 and 6000 (out of 22k), but it's not a big deal.

Good stuff!

Great sounds, lots of depth and character, very inspiring! I'm having trouble getting the "size" and "damp" knobs on the GUI to function, but I admittedly have an older version of DS, so need to update.

Intruiging

Nice to get your teeth into some subtle/not so subtle evolving sounds. A big download. Found that the LPF has a limited range (seems to be off or on within the first marked segment. Think this would open up the instrument if a wider range).
A good choice for moving beds. Thanks Matthew.